For shifting cargo on places with low ceilings or other places where trailers and cranes cannot be utilised, we have the solutions.

We use two types of skidding systems, depending on the weight of the cargo. The light duty skidding system will be used for loads up to 250 metric tons. The heavy duty skidding system has a capacity of 2600 metric tons. With the heavy duty skidding system, the cargo will be pushed by hydraulic pushing jacks in position.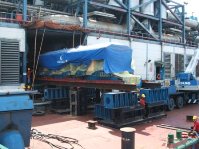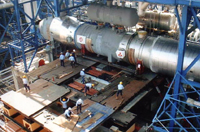 4 Points Lift System
With a capacity of 1100 tons (10000kN) and a lifting height reaching over 40 feet (12.3 meters) the SBL 1100 is one of the most versatile and competitive gantries in its class.